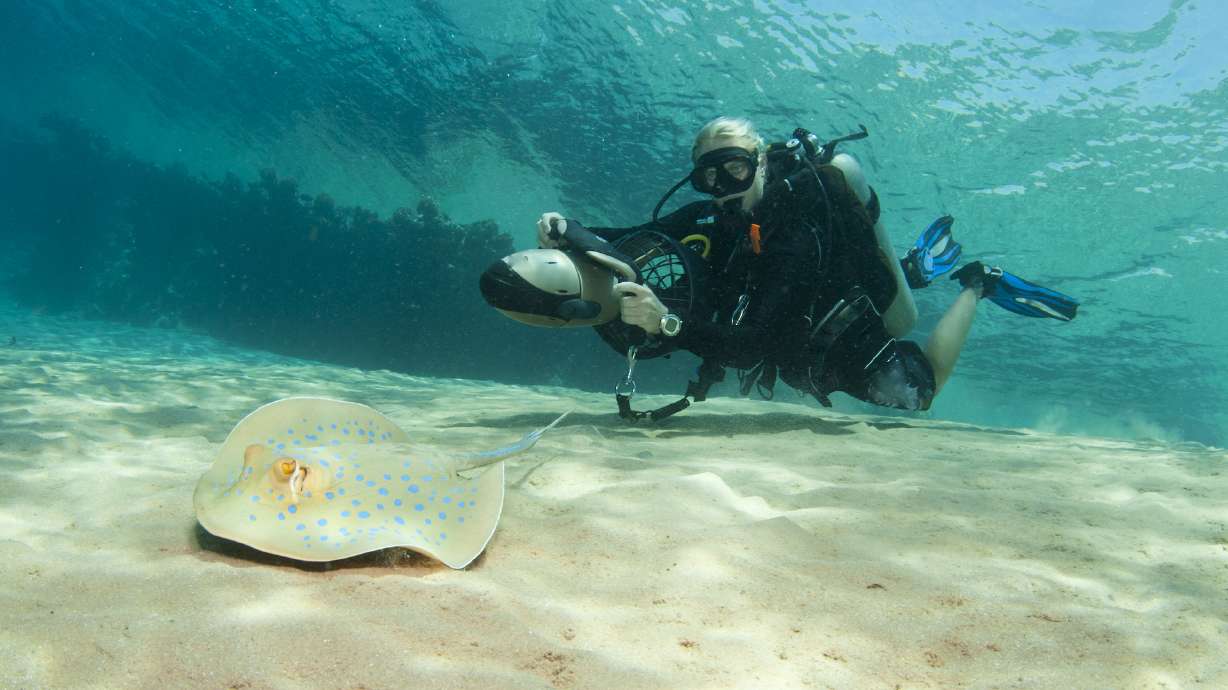 Travel plans? Check out these 5 crowdfunded travel gadgets
If you have travel plans, here are a few great new items currently being crowdfunded by the people for the people. (Jon Milnes, Shutterstock)
Estimated read time: 5-6 minutes
SALT LAKE CITY — It's nearly May! I mean … it's nearly May? Pretty wild to think about where we were two years ago at this time. Oh, how little we knew how much the world and our lives were about to change.
After the past couple of years of isolating and quarantining, I think we can all agree we have a newfound appreciation for travel. It is not something we will take for granted again. In fact, right now might be the perfect time to plan a trip, whether that looks like a solo wellness retreat in the jungle, or a family vacation to the beach.
If you have travel plans, here are a few great new items currently being crowdfunded, meaning people are buying into the ideas and putting real money behind them on Kickstarter or Indiegogo. What's cool about supporting products like these is they're usually created by small to mid-size, home-grown companies looking to expand their ideas and products to the world – but they need the capital, as well as bandwidth from people.
Suray Sun Shirt
Headed to the tropics? What about the mountains? The Suray Sun Shirt will be the ultimate shirt to pack along in your travels, wherever they take you this summer.
Salt Lake City-based Coalatree is back at it again, with another Kickstarter product. They're known for creating eco-minded products for the outdoors and adventurous types, and they've come back this year with the sun shirt.
This shirt is made with environmentally safe zinc ions naturally embedded into the material. With SPF 50, this will be the perfect shirt to bring to the beach on your next vacation, or to wear at high altitudes, when hiking in the canyons.
The best part? Coalatree has also partnered with factories in the Dominican Republic that empower their communities, and especially women, by putting the women in leading roles.
The shirt is available in various patterns and colors. Check it out here.
Subnato Underwater Scooter
Calling all freedivers, swimmers, snorkelers and scuba divers. This underwater scooter is perfect for any water adventure this summer.
This gadget is incredible. It's small, packable, TSA approved — so you can fly to exotic locations with it — and it's super easy to use. You can attach it to your arms, legs, a stand-up paddleboard or anything else, and zoom around the water at faster speeds than you can swim. With its jet-propulsion system, the powerful thrust will allow you to combat currents, chase fish and jet around the water at three different speeds.
The good news about this device is it's super user-friendly. You don't have to be a professional to learn how to use it. At the same time, it's far more effective than other entry-level models.
Haven Safari Hammock Tent
This is an absolute must-have for the summer. Whether you want to camp in the Uintas or just in your backyard, the Haven Safari will be a sweet addition to your camping setup.
"Make sleep the highlight of camping" is the motto the founder of the Hammock Tent has created, and for good reason.
The hammock is different from a "normal" hammock, in that it can be adjusted so it lays completely flat for comfortable sleep. Plus, it comes with a deluxe, insulated pad mattress coated in vegan suede, making it the most comfortable hammock you've ever been in.
What's nice about this hammock is that if you want to fold like a banana, you can easily switch it into lounge mode simply by pulling a few straps.
It's already been funded by more than 1,000 backers, with over $300,000 in funding. So, get yours while you can.
Check out the hammock on Kickstarter, here.
Luup-X: Fat-tire Carbon eBike
This might be the most high-end electric bike on the market.
It's got all of our favorite features, packed into one bike. Lightweight, fat tires for all-terrain, power and speed. These bikes can climb hills quickly, operate on any and all terrains, including water, and have an incredible lithium battery that will last a long time.
If you've got some camping and biking trips planned this summer, this will be the perfect addition for you and the family. It can ride on beaches, in urban areas and even in the snow.
It's already achieved nearly $450,000 in backing, with 22 days left for you to explore getting one of these for yourself.
Oru Lake Origami Kayak
OK, this product might be something I'm going to have to buy for myself.
The Oru Lake, Origami Kayak is the "lightest, simplest, portable kayak that can go from boat to box in one minute," creators say.
It's already received over $1 million in funding, probably because it's so cool. The company launched on Kickstarter for the first time 10 years ago and have created five different models of this kayak since. With all of those iterations, you can bet that this year it's improved and better than ever.
It's durable and folds up with "origami technology" to make it the most portable kayak you've ever experienced.
This will be essential for those of you who don't have a big vehicle or a trailer to port around a traditional kayak. Enjoy kayaking on Jordanelle Reservoir or adventuring on some of Utah's rivers.
It's already hit $1.5 million in funding, with almost 2,000 backers. Check it out for yourself here.
Enjoy your travels.
×
More stories you may be interested in
https://www.ksl.com/article/50370120/travel-plans-check-out-these-5-crowdfunded-travel-gadgets