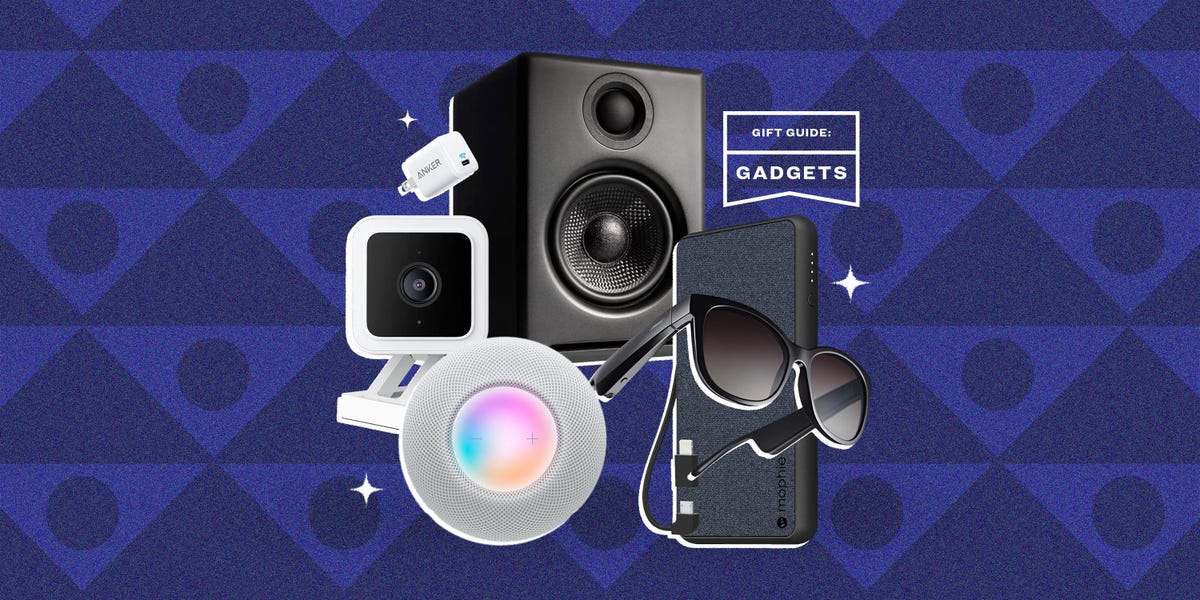 The Best Everyday Gadget Gifts for All Budgets
Looking for tech, gadget or audio gift for somebody? We've got you covered. From noise-canceling headphones to smart plugs, bookshelf speakers to wireless chargers, we've rounded up our favorite tech gadgets that we use everyday.
Anker Nano iPhone Charger (20W)
Now that the latest iPhones don't ship with a companion wall adapter, you'll need to use one you already own or buy a new one separately. This one by Anker is tiny yet still powerful enough to fast-charge a iPhone.
Mophie powerstation Plus (6,000mAh)
This is a great portable battery for anybody who has an iPhone. It has an integrated charging cable with a Lightning connector attachment. It can also charge via wireless charger if they already have one of those for charging their phone. 
Wyze Cam v3
The Wyze Cam V3 is a tiny smart home camera that works with most smart ecosystems (including Alexa and Google Assistant) and has a similar feature set and video capture capabilities as way more expensive options.
Wemo WiFi Smart Plug
This is our favorite smart plug because of its small size and capability with all the major smart ecosystems, including Amazon Alexa, Google Assistant and Apple HomeKit.
Anker 3-in-1 MFi Charging Cable
This 3-in-1 charging cable solves the problem of carrying around multiple cords to charge all your devices. It has a Lightning, micro-USB and USB-C connections.
Belkin Car Vent Mount PRO with MagSafe
This is the perfect accessory for anybody who has a newer iPhone (any model with MagSafe capabilities) and spends long hours in the car. It attaches to your car's air vent and holds your iPhone in place as you drive.
AirFly Duo
Especially when traveling as a pair, this device is extremely handy, as it can turn any non-wireless audio-outputting device into a Bluetooth-friendly one — and it can even stream to two sets of headphones, like Apple's AirPods, at the same time.
Twelve South Curve
This is a convenient and ergonomic laptop stand that's perfectly sized to fit a 13-inch MacBook Pro or MacBook Air. It's available in either black or white.
Logitech MX Anywhere 3
This is an excellent wireless mouse for a number of reasons. It's small and very portable. It charges via USB-C. And it has customizable side buttons that's optimized for video conferencing. (You can program them to toggle your microphone and video on/off during Zoom or Microsoft Teams video calls.)
HomePod mini
The HomePod mini is the best smart speaker for anybody with an iPhone and subscribes to Apple Music. Plus, it's adorable in all of the five available colorways.
Polaroid Go Starter Set
Polaroid's newest, smallest instant camera is an absolute cutie. With its tiny size, and handy features like a double exposure option and a selfie mirror on the viewfinder, it's a great gift for any snapshot lover. 
The Best Turntable and Speaker Combos That Make Vinyl Easy
While true that traditional turntable setups have a lot of moving parts, that's the nature of the beast — if not vinyl's main allure. There's also an easy workaround. These days, a bunch of turntables and speaker systems come with integrated components (like a phono preamplifier or amplifier) and they make listening to vinyl as hassle-free. Here are some of the best.
LEARN MORE
UE Boom 3
This is our pick for best all-around portable Bluetooth speaker. It combines big sound, intuitive controls and durable design, and it comes in a price that's more affordable than most alternatives.
Base Station Wireless Charger Apple Watch Edition
This charging station is a great bedside addition for anyone who has an Apple Watch they'd like to charge alongside their phone and up to two other devices.
Sonos Roam
The Roam is the newest, smallest and most rugged speaker that Sonos has ever made. It's designed to be played at home and anywhere else (like the beach).
Bose Frames Soprano
Bose's audio glasses are the ideal give for anybody who spends a lot of time outdoors and doesn't like the feel of wireless earbuds earbuds. 
Echo Show 10
The Echo Show 10 is Amazon's newest and coolest smart display. It has a rotating base with face tracking, so the screen can follow you as you watch a show or recipe video. 
Bose QuietComfort Earbuds
It's taken Bose awhile to release its first pair of wireless earbuds with active noise cancellation, but they're here — and they're excellent. Available in black or silver.
Sony WH-1000XM4
Released in 2020, the Sony WH-1000XM4 are the ultimate package. They combine great sound, a ton of new-age features and the best active noise-cancellation ever in a pair of wireless headphones.
Audioengine A2+
This is versatile and tiny pair of powered bookshelf speakers. They can connect them to a computer, turntable, tablet or smartphone. And they have built-in Bluetooth so streaming is super easy. 
Ricoh Theta SC2 360° Camera
Any frequent traveler, social media junkie, or combination of the two, could appreciate the fun and impressive power a 360 camera provides. Take in the entire scene around you and share it with the world? Yes, please! 
Mini SE Camera Drone
Whether for aerial photography, movie-making, racing, or just tooling around for fun, DJI's drones are some of the best R/C flyers around. This one also happens to be ultra-compact and ultralight.
Apple Watch Series 7 GPS
The industry standard when it comes to smartwatches, the Apple Watch gets better and better with each subsequent generation. The 7 is the latest and greatest and is a must-have for techies everywhere.
The Best Wireless Earbuds of 2021 – Which Is Right for You?
This definitive guide to the best wireless earbuds of 2021 explores everything you need to know before buying your next pair of wireless earbuds, including what to look out for and which options are best.
LEARN MORE
This content is created and maintained by a third party, and imported onto this page to help users provide their email addresses. You may be able to find more information about this and similar content at piano.io
https://www.gearpatrol.com/gift-guides/g34483079/gadget-gifts/