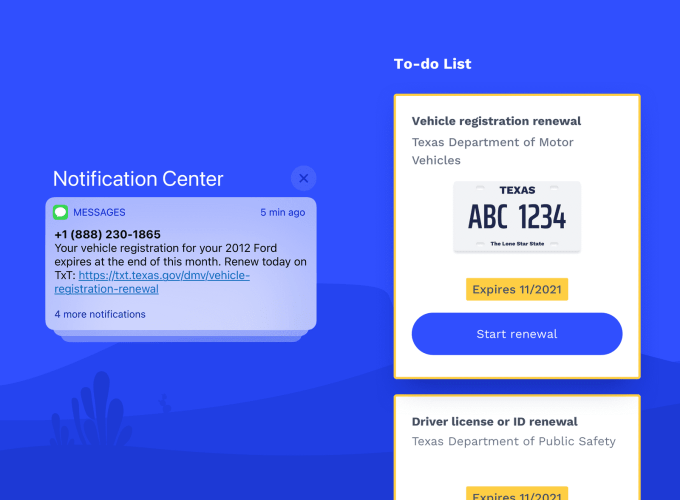 Texas launches mobile app for government services
Written by Benjamin Freed
The Texas Department of Information Resources on Monday announced the launch of a new mobile app designed to give the state's residents access to a variety of government-agency services through a single access point.
The Texas by Texas app, or TxT, has been in the works since 2018 and previously existed as a mobile-responsive website that launched last October, officials said. The app gives Texans the ability to conduct transactions with several different state agencies using a single account, shifting away from an era in which each individual agency managed its own online services and sparing users from having to remember multiple passwords.
"This is no different than the accounts we have in our lives for other daily services — music streaming, grocery orders, delivery apps," said Texas Chief Information Officer Amanda Crawford.
So far, just three agencies have added services to TxT: The Texas Department of Motor Vehicles, which is offering vehicle registration renewals; the Texas Department of Motor Vehicles, for driver's license and state identification renewals; and the Texas Department of Licensing and Regulation, for professional license renewals. That last service is limited to massage therapists and massage-therapy instructors so far, though Crawford said she expects other professions to be added soon.
Work on TxT dates back to 2018, when the licensing department was the first agency to engage with DIR's digital-services project. Online massage license renewals were first offered in September 2019, though the addition of public safety and the DMV are expected to fuel TxT's audience.
"Those are anchor tenants in any application," Crawford said. "There are a huge number of transactions."
In addition to giving Texans a single interface for a range of services, the app — which has launched on Apple iOS, with an Android version to follow — can send push notifications reminding users if their licenses or car registrations are due for an update. Crawford said she encountered this firsthand, when, shortly after downloading the app, it notified her that the two vehicles she owns were due for a registration renewal in February.
Since the TxT website launched last October, the service has accrued more than 450,000 users, a figure Crawford expects to grow quickly with the mobile app. (She added that much more of the traffic is for the driver's license and vehicle registration renewals than it is for massage therapists.) She also said that more agencies are expected to add their services, though she declined to name which "because I don't want to scare them off."
In launching the app, Texas joins other states that've poured government transactions into a single mobile service, including Colorado, Kansas and Tennessee. And while Crawford acknowledged the pandemic's digital-government explosion, she said TxT is not meant to detract people from visiting agencies in person.
"We know for folks across Texas that's still important," she said. "But we know there's also folks in rural communities and urban communities who would like to not."
Texas by Texas was built by the consulting firm Deloitte, which operates Texas.gov for DIR. While Texas' overall IT governance is federated, fee-based services have long operated through Texas.gov, Crawford said. But the new app, while meant to give users a "unified feel," does let each agency maintain their own branding.
"When you go to click on the DMV, you're still going to have DMV branding," she said.