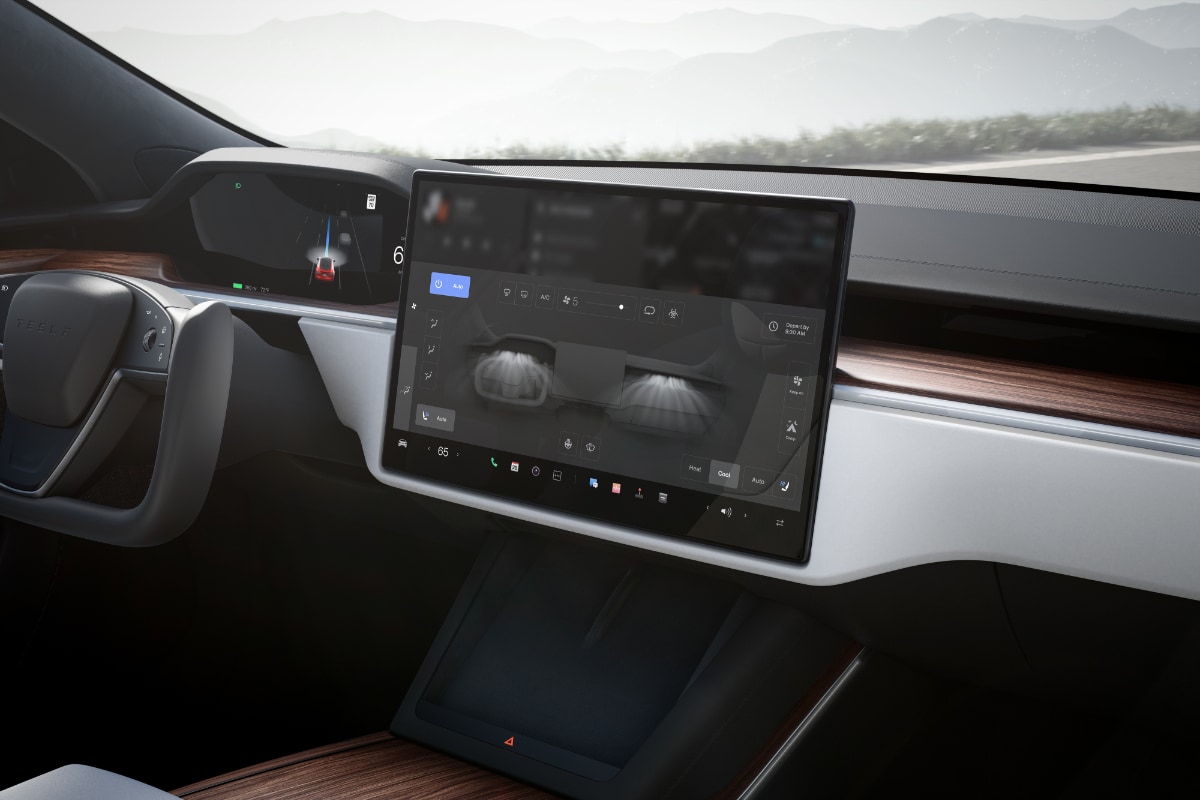 Tesla software update to address display restarting due to CPU overheating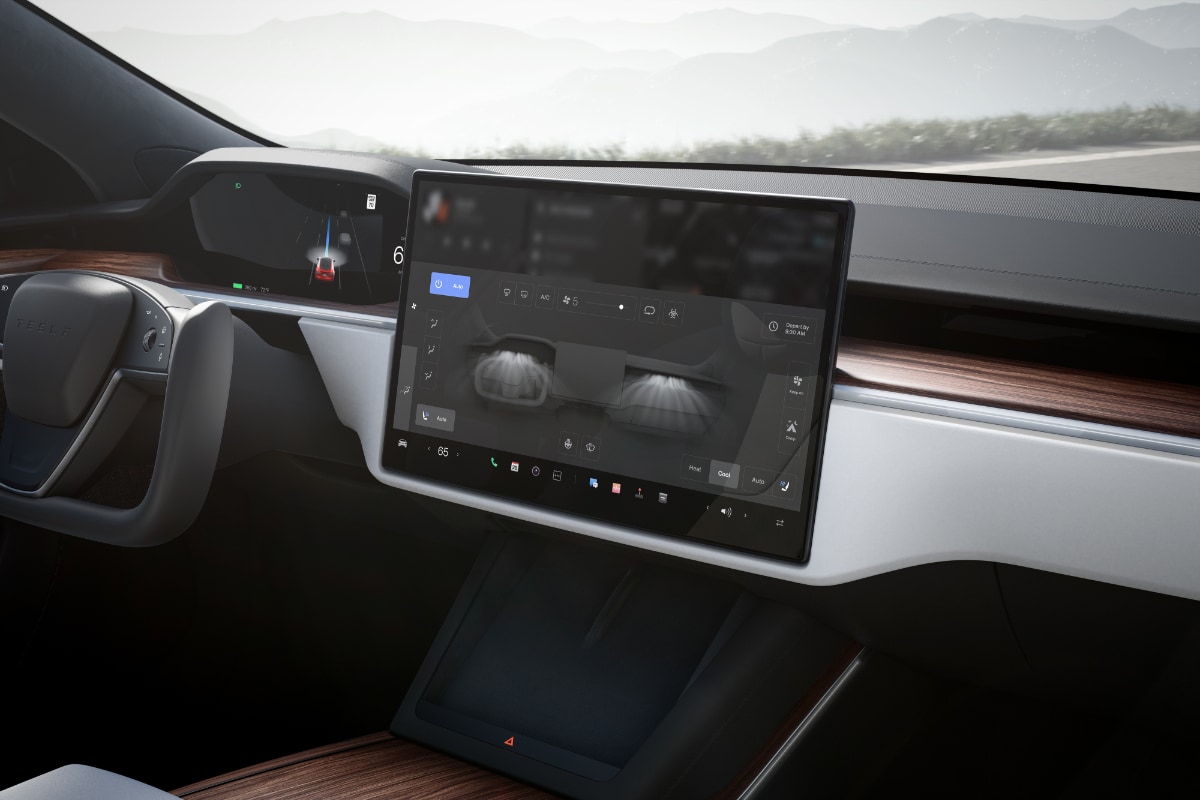 Tesla has issued a new recall affecting 129,960 vehicles from 2021 and 2022, due to an overheating issue with the
infotainment center CPU.
The automaker has discovered a fault where the center display may become laggy due to the CPU overheating when
the vehicle is pre-conditioning the battery pack for Supercharging or while it's Supercharging.
"A lagging or restarting CPU may prevent the center screen from displaying the rearview camera image, gear
selection, windshield visibility control settings, and warning lights, increasing the risk of a crash", Tesla
wrote in their recall notice.
Tesla claims to have discovered the issue during standard endurance testing. Although there have been no reports
of wrecks or injuries, the company has received 59 warranty claims from January to early May.
Luckily, just like past recalls, the automaker will be able to fix the issue with a software update. The Recall
Report from the National Highway Traffic Safety Administration Safety reads:
"On May 3, 2022, Tesla began deploying an OTA firmware that will improve the management of the CPU temperature
and associated communications with elevated temperature operation. This remedy will mitigate temperature
elevations in the CPU when the vehicle is fast-charging or preparing to fast-charge, which will prevent slow
processing or restart."
Tesla will contact the specific owners with an official recall notice, expected to be mailed July 1, 2022.
Tesla's ability to issue over-the-air software updates in order to fix most of the issues that have led to
official safety recalls lately, highlights the effectiveness of their approach to in-car operating systems and
connectivity, a feature that seems to be gaining fast adoption by other automakers, and will surely change the
landscape of the automotive industry.
A typical traditional recall, in which affected owners must bring their vehicles in for service, could easily
bankrupt a carmaker, which must pay for labor and parts to perform the repairs.
Affected vehicles appear to be limited to those with Ryzen-based CPUs, Tesla's latest MCU. MCU 3 provides increased
responsiveness and faster loading apps such as streaming services and the web browser.
If you have a Tesla with a Ryzen-based
CPU and have experienced a delay when using the touchscreen or had it restart randomly, you may see
improvements when this fix is rolled out.
The fix is expected to be in later revisions of Tesla's 2022.12 updates.
We're Hiring!
We're looking for a freelance writer who loves Tesla as much as we do. If that's you, we'd love to hear from you! Find out more.

According to Elon Tesla may release FSD Beta 10.12 with several key improvements this week.
The last major beta, version 10.11 started
going out in early March, but most testers didn't receive it until v10.11.2, which
was released in April.
We hope this beta will go out a little quicker than the previous one, but it's certainly shaping up to be an
exciting release.
Updated Vehicle Models
FSD Beta 10.12 will contain new, more
detailed vehicle models, at least for its sedan model, but it may include updated models for all the
various vehicle types.
The current sedan visualization is fairly abstract. It doesn't have wheels or many details. The visualization is
modeled after Tesla's key fob for the Model S.
FSD Beta can recognize far more things than it can display on the screen. However, the visualizations are an
important way of how the vehicle communicates with us on what it sees and understands. So with Beta 10.12 Tesla
is including a more detailed sedan model that has wheels and doors.
Although FSD Beta has been able to detect open doors for a while now, the model will now visually show us if any
nearby cars have open doors by highlighting the door in yellow.
Improvements to Unprotected Left Turns
Unprotected left turns have been a key focus over several betas and we're apparently going to see further
improvements in 10.12.
Crossing over multiple lanes when turning left can be intimidating, even for some human drivers. Tesla has
been making continuous improvements to make unprotected left turns more efficient and human-like.
For example, the car will now sometimes start inching slowly, anticipating the last vehicle to pass so that it
can complete the turn promptly and be out of the way of any further traffic.
According to Elon, FSD Beta 10.12 will specifically improve "tricky" unprotected left turns.
Chuck Cook on YouTube does a fantastic job covering some of these left turns. Below you can see how the latest
FSD Beta does taking a left turn onto a primary street with a divider.
Heavy Traffic
In Beta 10.12, we're also expecting to see improvements in heavy traffic. I haven't seen too many issues with the
beta in traffic, except that sometimes the car has a tough time differentiating between a parked vehicle and a
vehicle that's just waiting.
I've encountered situations where the beta tries to go around a car that is stopped due to a traffic light or
traffic and the beta waits for just a few seconds before trying to go around the vehicle.
Hopefully, this is one of the areas that Elon is talking about when he refers to improvements in heavy traffic.
Single Stack
Elon also mentions that Tesla is making good progress on single stack. Single stack refers to a single set of
technologies that will be used for both highway and street driving.
FSD beta is great, but once you get on the highway, you're right back in the old production version.
FSD Beta is far from perfect, but driving on city streets is a completed task and the beta actually does quite
well trying to figure things out.
When we start looking at Autopilot on the highway and some of the issues it still has, like bouncing between lane
markings or a sudden attempt to center itself in a lane that has become wider, those issues are practically
non-existent in city driving.
So while single stack won't be included in beta 10.12, it's good to know that Tesla continues to make progress.
When Tesla is finally able to complete their single stack software we should see huge improvements in highway
Autopilot use.
Release Date
The last FSD beta started going out more than a month ago, so a lot of users are definitely itching for an
update. Elon said earlier this week that beta 10.12 is "probably" going to wide release this week.
The beta could be in QA testing now, but it unlikely that it has been passed on to employees yet as release notes
usually get leaked when that happens.
Hopefully, some of us will be greeted by that sweet notification this weekend, prompting us to install the latest
beta.
Update: Elon tweeted today, Friday, May 6th that there have been "many upgrades to core code, so taking longer to debug issues. Probably Wed/Thurs release." So it looks like we're still a week out from a public release of beta 10.12.
Based On New Build
Lately, FSD betas have been a little behind the times. The latest beta is 2022.4.5.21,
which is roughly two major versions behind. That means that FSD Beta testers still don't have seat heaters in
the launcher, Dog Mode in the Tesla app, browser improvements, vehicle preconditioning improvements and more.
Most non-FSD Teslas are now on a 2022.12 release and 2022.16 is expected shortly.
While it's unlikely that the beta 10.12 will be based on a brand new upcoming build like 2022.16, it's almost
certainly going to be based on 2022.12, which
will please a lot of testers.
It appears that Tesla is as cautious as ever with beta releases. Lately, it has taken several revisions of a beta
before Tesla releases it to everyone.
Tesla says they're now at 100k beta testers in the US and Canada, so they're right to be cautious, but it's not
easy waiting.
We're Hiring!
We're looking for a freelance writer who loves Tesla as much as we do. If that's you, we'd love to hear from you! Find out more.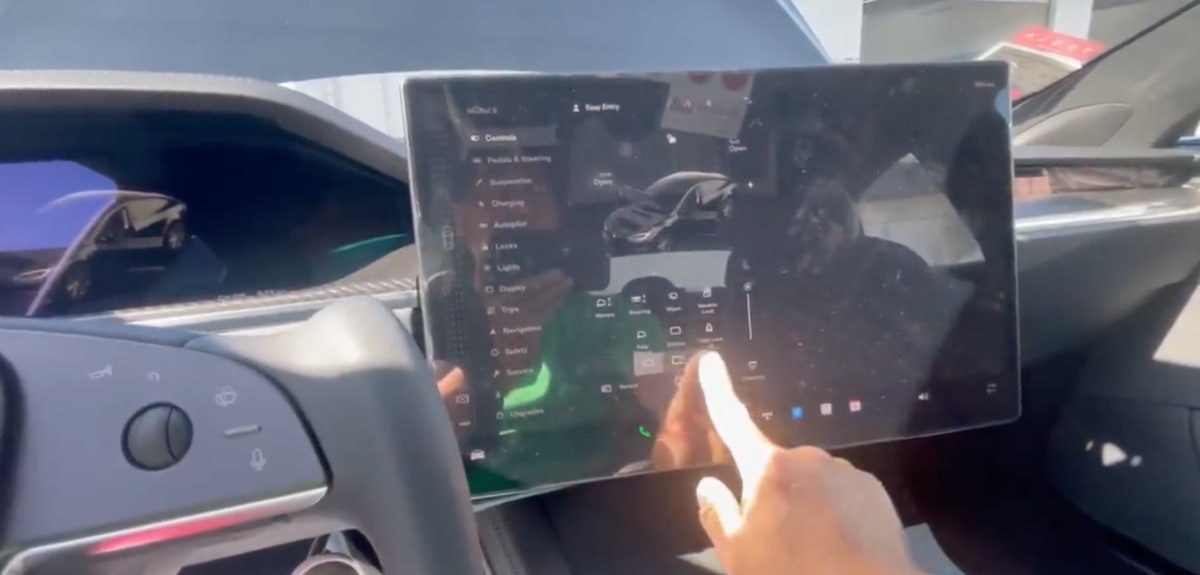 When the new Model S was shown off back in 2021 it was said to come with a tiltable 17″ center screen.
Although the initial plan was to offer a tilt-able display, the displays in the new Model S and Model X have remained fixed until now.
There's currently no way to tilt the display, manually or automatically. However, it looks like Tesla is now testing an update that activates the servos that tilt the large center display.
However, not all vehicles are equipped with the motor to move the display. Tesla has only recently started to include all the hardware required. It's not clear whether Tesla will provide a retrofit for older vehicles. For vehicles that have the required hardware, an upcoming update should enable it to be controlled through the UI.
Twitter user @TeslaFrunk has just published a video showing the displaying tilting from left, to center and then to the right.
It looks like the display swivel will be done by the push of a new button added to the Controls menu.
The new button appears to be called "Display" and it replaces the Glovebox button. Upon pressing the button, you're presented with three options, left, center or right.
Tapping on the desired direction will cause the display to slowly move to the desired position. This doesn't appear like something you'd change just to use the screen for a moment, but instead more of a personal preference.
The glovebox button appears to have moved to the bottom right corner where Neutral used to be, and Neutral has been moved to the bottom of the Auto Shift column that allows you to shift your vehicle into Drive, Reverse or Park.
There's no word on what software version this vehicle is running, but it's likely an early access build or internal only software.
Tesla finally added screen swivel to the refreshed model s pic.twitter.com/JeldBrRTXw

— Larry Li (@TeslaFrunk) May 3, 2022
Some drivers like to have the display in the center, giving equal access to the driver and passenger, while others would prefer for it to face the driver.
This is a welcomed option that gives owners more flexability in how to use their cars.
It'd be nice if Tesla also offered an option to automatically tilt the display toward the driver if there was only one person in the vehicle or keep it in the center if there is someone in the passenger's seat.
Software update 2022.16 is just around the corner. Will this be included in it? We should find out soon.
We're Hiring!
We're looking for a freelance writer who loves Tesla as much as we do. If that's you, we'd love to hear from you! Find out more.

https://www.notateslaapp.com/news/763/tesla-software-update-to-address-display-restarting-due-to-cpu-overheating