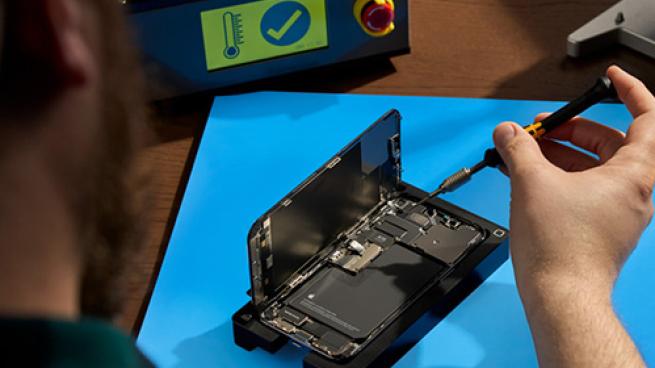 New Apple online store targets tech DIY-ers
Apple is providing enthusiasts of its products a chance to perform their own repairs.
The tech giant is launching the Self Service Repair Store, an e-commerce site that offers repair manuals and genuine parts and tools for select Apple products. Self Service Repair is currently available in the U.S. and will expand to additional countries — beginning in Europe — later in 2022.
The new online store offers more than 200 individual parts and tools. Apple is initially selling the materials to complete repairs on the iPhone 12 and iPhone 13 lineups and iPhone SE (3rd generation), such as the display, battery, and camera. Later this year, the program will also include manuals, parts, and tools to perform repairs on Mac computers with Apple silicon.
To start the Self Service Repair process, a customer will first review the repair manual for the product they want to repair, available free online from Apple. Then, they can visit the Apple Self Service Repair Store and order the necessary parts and tools.
The parts are the same ones, at the same price, as those available to Apple's network of authorized repair providers. For certain repairs, customers will receive a credit when returning a replaced part for recycling.
The Apple tools available to customers on the Self Service Repair Store are the same as used by Apple's repair network. They are custom-designed to help provide the best repairs for Apple products, and are engineered to withstand high-volume, professional repair operations. Tools offered through Self Service Repair include torque drivers, repair trays, and display and battery presses.
Apple will also offer tool rental kits for $49. The weeklong rental kits will ship to customers for free.
According to Apple, the Self Service Repair Store is part of broader efforts to further expand access to repairs.Over the past three years, Apple says it has nearly doubled the number of service locations with access to its parts, tools, and training, including more than 3,000 independent repair providers.
Newegg serves enthusiasts
Apple is not the only technology retailer gearing e-commerce offerings for tech enthusiasts who take a more "hands-on" approach to their electronic devices. Consumer electronics-focused e-tailer Newegg offers the Newegg PC Builder, a one-stop online shop for designing and building custom PCs. The Newegg PC Builder delivers a PC configuration tool that eliminates the need to consider hardware compatibility.
As a result, Newegg can enable both novices and experts to compile and purchase the necessary parts to build their own custom PC. Customers navigate an intuitive workflow to configure a PC to suit their individual needs and budget, with the ability to purchase all the necessary components via a single transaction.
In addition, Newegg offers professional PC assembly to customers who design their own computers on its PC Builder platform. The company's build-to-order (BTO) offering leverages its electronic numerical integrator and computer (ENIAC) in-house computer assembly service to build and deliver fully-assembled computers.
https://chainstoreage.com/new-apple-online-store-targets-tech-diy-ers