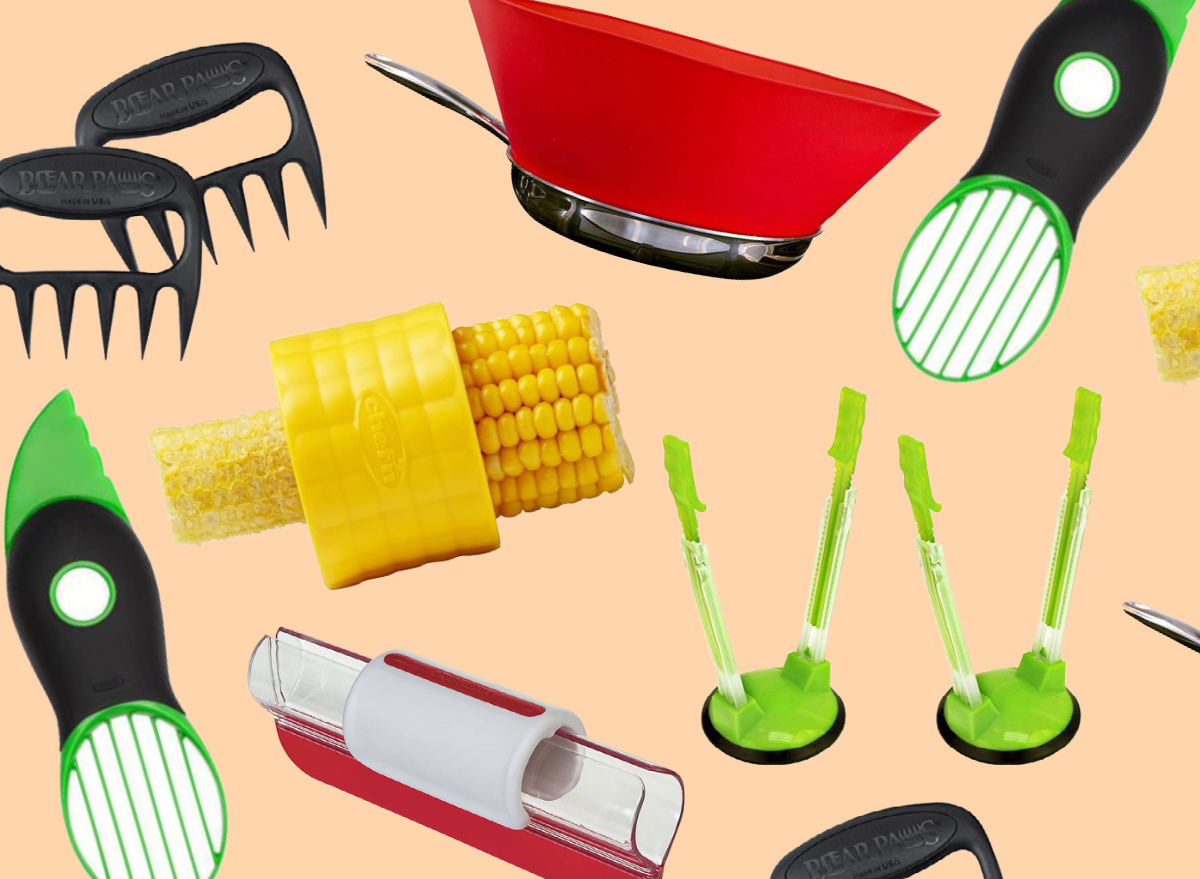 16 Kitchen Gadgets That Are Absolutely Worthless — Eat This Not That
When it comes to kitchen gadgets there are some gems but then there are some absolutely worthless options that TV, Amazon, and TikTok have convinced us that we need. In fact, I'm willing to bet that you have some of these gadgets and gizmos in a drawer in your kitchen, or even worse, collecting dust outside in your garage, right now.
If I'm being honest, I can't stand kitchen gadgets. The old adage that a cook's best tools are their hands proves true most of the time. I hate digging out a clunky plastic contraption and putting it together when I could have just grabbed my well-loved chef's knife and gotten to work and been done much faster. Just like one of my favorite chefs, Alton Brown says, the only unitasker in your kitchen should be your fire extinguisher. What I've really learned as I went through pages of Amazon gadgets is that people are really scared of using a knife.
If you're looking for worthwhile holiday gifts, here are the 16 worst kitchen gadgets you can pass over on Amazon right now. (Plus, check out The Best Gifts for Foodies in Every State.)
Somehow this has over 7000 reviews and is rated as one of Amazon's best products in kitchen tools. I can see how the Original Jokari Adjustable Baggy Rack is alluring, especially if you're filling multiple bags at once for kids' lunches or to pre-portion ingredients for the week's meals, but most bags will stay open once they are partially filled, so this unitasker isn't worth it. In fact, one reviewer said, "These are so unstable and flimsy. The only parts that work as stated are the adjustable arms. They do move up and down."
RELATED: Sign up for our newsletter for more gift ideas and cooking tips.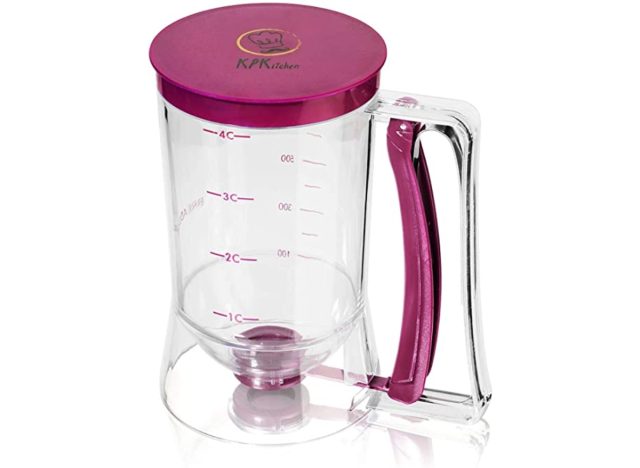 The KPKitchen Pancake Batter Dispenser might be good if you work in a pancake house, but at your real home, it's clunky and pretty useless. One Amazon review said, "Poor design for the handle. Skip this one and try a different one." You can measure out perfect pancakes with a measuring cup, or just eyeball it. After all, the joy of homemade pancakes isn't how they look, it's all of the fun toppings and sugar rush after eating them.
RELATED: 19+ Best Healthy Pancake Recipes for Weight Loss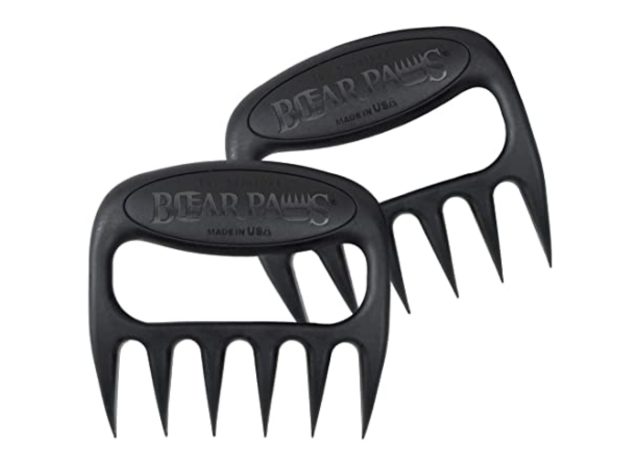 Unless you're a professional BBQ cook-off champion, The Original Bear Paws Shredder Claws are not necessary in your kitchen. Celebrity chef Alton Brown agrees. While these may seem like a must-have because they can shred meat and stabilize large things like watermelons while you slice and dice, a sharp knife and your hands can do the same thing. Save room in your kitchen drawers and ditch these.
RELATED: The Worst Mistakes Everyone Makes Cooking Eggs, According to a Chef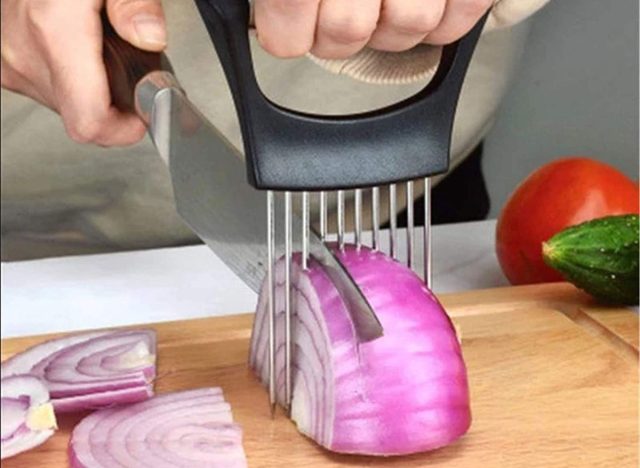 The Tomato Onion Vegetables Slicer Food Slice Assistant is an all-around weird idea. The gadget helps you to guide your knife to make perfect slices of vegetables. But you can also get even slices out of vegetables with a little practice with your chef knife. This may be good for kids who are learning how to cook and use a knife safely, but otherwise, it's a big no from me.
RELATED: 12 Food Safety Rules You're Definitely Breaking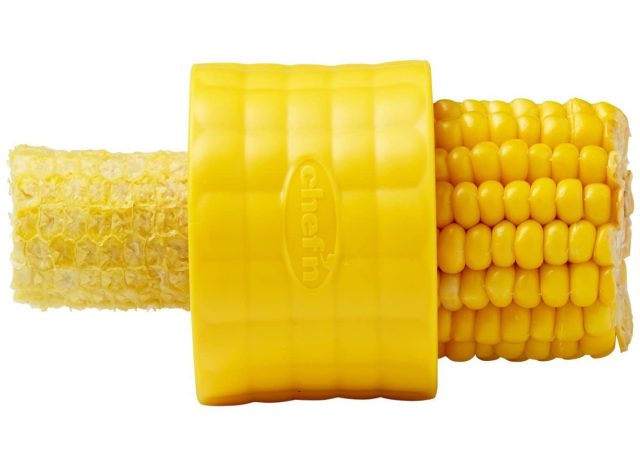 Why? Why do we need a corn stripper? A sharp knife can do this exact same thing, and you won't be hurting your hand in the process by constantly twisting the Chef'n Corn Stripper Plastic Blade around the corn cob. One Amazon reviewer said, "Works well on skinny corn ears, but not on hefty ones. I still use a knife most of the time." There's also no way the blades inside the corn stripper are getting clean after every use. This is a pass.
RELATED: 20 Corn Recipes That Crush It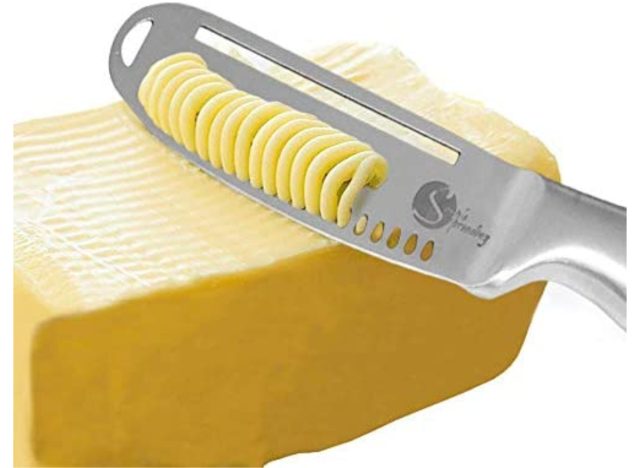 The Magic Butter Knife Spreader and Curler is a weird concept. It's essentially a butter knife that you likely already have in your silverware drawer but with a bunch of holes like a cheese grater. It's supposedly able to spread hard butter that's right out of the fridge, but you could also just soften the butter in the microwave for about 10 seconds and have perfectly softened butter for toast. "I tried to use it once and dumped it right in the trash," revealed one Amazon review.
RELATED: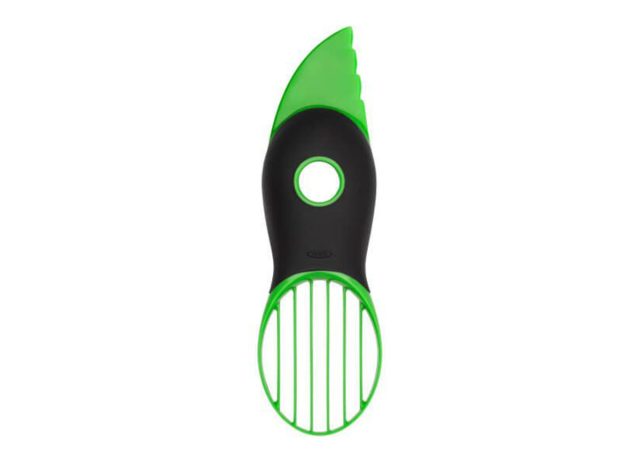 I love avocados, but I hate this gadget. The OXO Good Grips 3-in-1 Avocado Slicer does the same things a knife can do but without the precision that a sharp knife has. The slicing side is hard to get through avocados and it's often too big for avocados, and don't even get me started on the pit holder. Just use a short paring knife if you want to make avocado toast.
RELATED: 7 Secrets for Buying the Perfect Avocado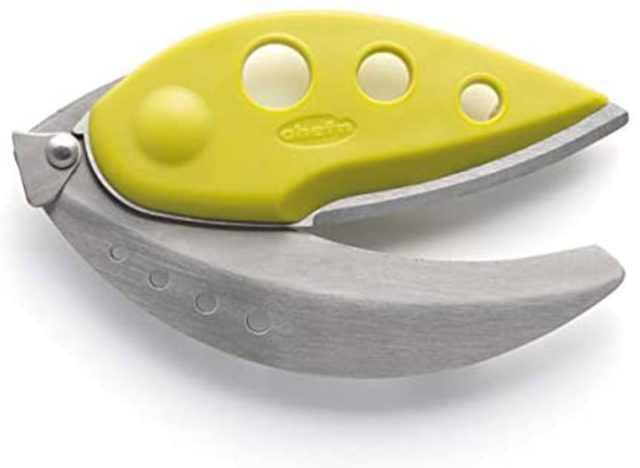 Herb strippers have become very popular thanks to TikTok, but I cannot stand the kitchen unitasker, especially the Chef'n LooseLeaf Plus Kitchen Herb Stripper & Chopper, which also cuts herbs. First, you're expected to put each different herb through the proper hole so the leaves come off the stem, then you can chop them with the scissors. No thanks. I'll stick to stripping herbs by hand then cutting them with a knife. The sentiment was shared by one Amazon reviewer who said, "And given that I can do a cleaner job of it with my knife, this now sits unused in the back of a drawer."
RELATED: 17 Herbs to Try for Mind and Body Benefits, Says Science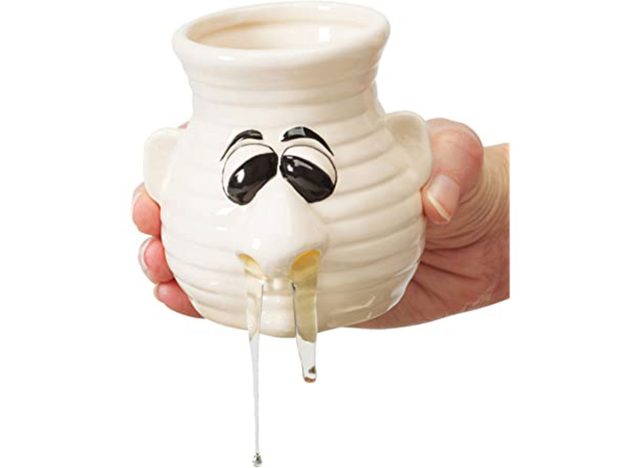 Egg separators are already a no-go in my book, but the Mr. Sneezy Egg Separator is so incredibly weird that I sort of want it for a holiday white elephant party. The egg separator works by holding the yellow yolk inside the carafe and the whites come out of the "nose" of the contraption. For an easier time separating eggs gently crack them and separate by hand. Just be sure to wash your hands really well after you get done.
RELATED: The 31 Dirtiest, Grossest Things in Your Kitchen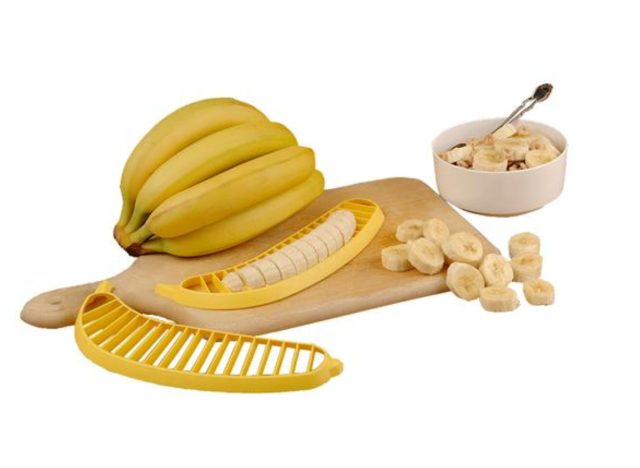 Another trendy gadget is the Hutzler 571 Banana Slicer, but I say don't get drawn in by it. Why do you need something that only slices bananas anyway? I'm here to tell you that you don't. If you're making banana pudding or something else that requires a lot of sliced bananas just use a paring knife. Also, if you're having a bad day just go and read the reviews for this and you'll instantly feel better, I promise.
RELATED: 9 Ways Bananas Can Help You Lose Weight, Say Dietitians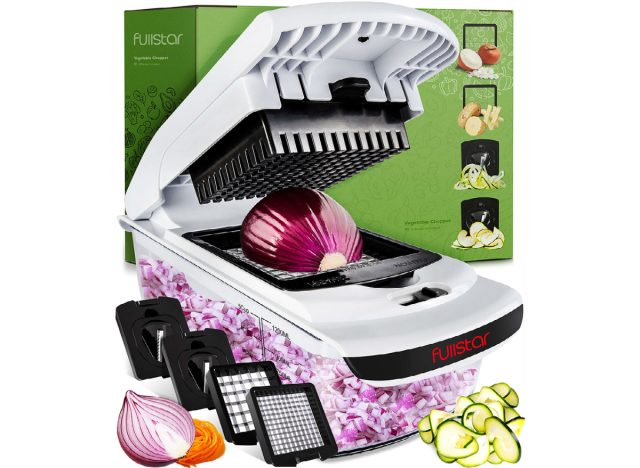 The Fullstar Vegetable Chopper – Spiralizer Vegetable Slicer is one of the most useless things I've seen in a kitchen. In fact, one reviewer agrees and said, "This device is complete crap, and now I'm outside of my return window with a shockingly bad and useless appliance." The large gadget takes up a ton of space and has a lot of added pieces and blades that can easily be misplaced or broken. I can't imagine having to clean any of this with vegetable pieces lodged into small crevices. Just do yourself a favor and learn how to use your chef's knife and make the appropriate cuts for the dish you're making.
RELATED: 50 Best Easy (and Fast) Dinner Recipes
Unless you're slicing a million grapes or tiny tomatoes the Progressive International Zip Slicer does not need to be in your kitchen. After personally testing this, the grapes and tomatoes never come out perfectly sliced and really end up as mushy partially cut pieces. If you're into uneven cuts and pieces of food that may cook faster than others, this is for you, but for most home chefs this is not a gadget to get.
RELATED: 30 Best Cooking Tips, According to Experts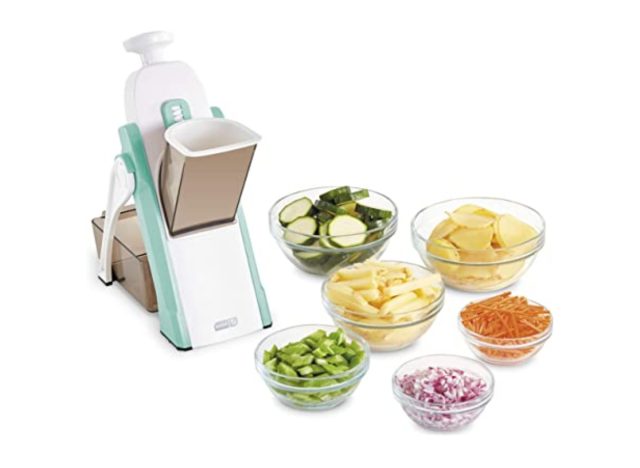 The Dash Safe Slice Mandoline Slicer, Julienne + Dicer for Vegetables may be helpful if you're not comfortable using a real mandoline to thinly slice vegetables, otherwise this is not a gadget worth getting. One reviewer said of the gadget, "Oh, and the part where it drops bits of plastic in your food, that's probably not safe either." The slicer works with gravity to pull vegetables into the chute as you pump the top button, but just imagine for a moment trying to get everything on this clean. And while it may claim "compact storage" it's really going to take up a lot of room in a drawer. Just keep clear of this one.
RELATED: 30 Most Dangerous Items Lurking in Your Kitchen Right Now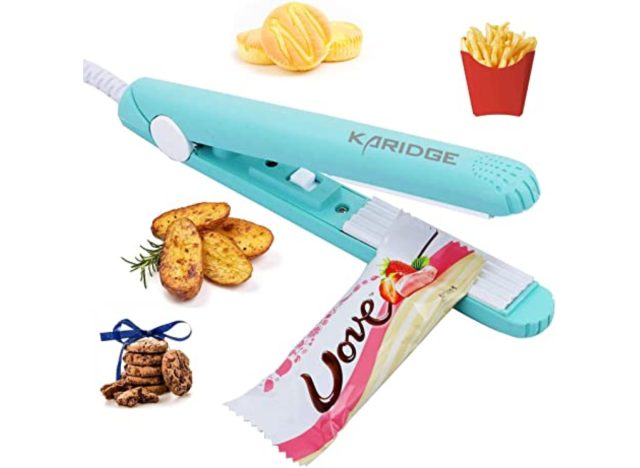 The Mini Bag Sealer Heat Seal Kitchen Gadgets is another TikTok trend that people think they absolutely must try. This gadget is essentially a hot hair straightener but for food. One reviewer agreed and said, "Felt like I was using a curling iron" If re-sealing bags is really that important to you try decanting your potato chips or chocolate chips into a plastic zip-top bag and resealing that way.
RELATED: 7 Weirdest Things You Can Buy at Walmart
How many dumplings are you making by hand where you need a mold? I'm guessing not many. This Stainless Steel Ravioli Mould Dumpling Maker is small so if you really must have a kitchen gadget the perk is that it's easy to store. But you could also use a fork to ensure your dumplings and ravioli are well-sealed and won't burst while cooking.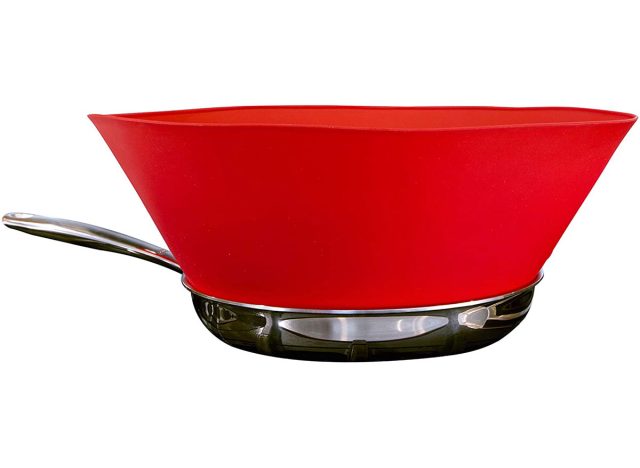 While the Frywall 10 might have been on Shark Tank, I wouldn't invest in it. The splatter guard is too high to stir or move ingredients around in a skillet, and the edges can start to melt or disintegrate if your pan gets over 450 degrees. Just skip this and use the lid that likely came with your pans if you really don't want oil splatters all over the stovetop. One Amazon review said, "The idea is great, and it certainly kept grease from splattering, but after two uses holes started to form and now it seems to be completely breaking down."
Read more essential cooking tips:
15 Cooking Tips We've Learned From Ina Garten
20 Cooking Tips That Will Change Your Life
9 Essential Kitchen Tips That Will Elevate Your Next Meal
https://www.eatthis.com/worst-kitchen-gadgets/