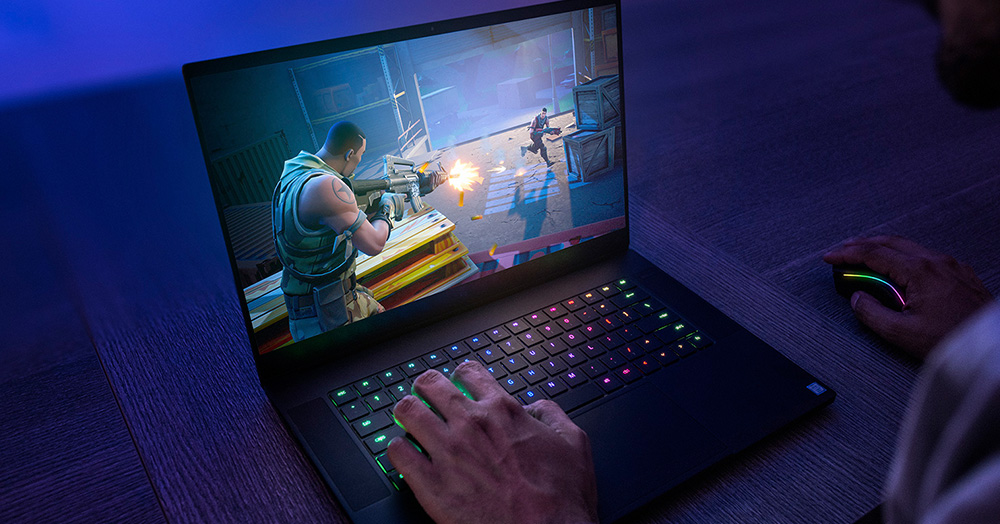 10 Best VR-Ready Laptops in 2022
With the rise of the Metaverse and various forms of cryptocurrency, the lines between reality and virtual reality are seemingly becoming more and more blurred with each passing day. Accounting for the massive boom in this increasing niche field, it's only right to shine a light on a separate but related one: the world of VR gaming. While virtual reality headsets have been on the market for quite some time now, they've become an immense source of entertainment in recent years, especially with many being forced to stay at home and fabricate a new reality for themselves. But headsets are just part of the equation, as you're also going to need a great VR-ready laptop to set yourself up for some serious gaming.
As far as technical prowess is concerned, gaming laptops often manage to fall into a realm of their own. The ability to harness an onslaught of power to provide avid PC players with first-class performance is already impressive as it is, but managing to live up to new-age technology in such a progressive field as VR bears some lofty expectations. In layman's terms, not every gaming laptop is built to provide escapists with a quality VR experience, while others don't even adhere to this 21st-century tech in the slightest. So, with that in mind, we figured it would be fitting to provide a guide full of the 10 best VR-ready laptops on the market, as well as what gamers should be looking for in one when they're ready to escape reality.
One Reality To Another
What Exactly Makes A Laptop VR-Ready
The three elements that determine whether or not your gaming laptop is equipped to take on a VR headset are rather commonplace. Considering these laptops practically serve as consoles in their own right, the most important factors to consider are the processor (CPU), graphic video card (GPU), and RAM.
CPU: The first integral aspect of a VR-ready laptop is a highly capable processor. As you could imagine, the more the merrier. The majority of options on the market are powered by a quad-core processor, which is pretty much the minimum you'll need to take on the demands of virtual reality headsets. The minimum requirement for both the Oculus Rift and HTC Vive, the two most coveted VR headsets on the market, is the quad-core Intel i5-4590 processor, but keep in mind, there are a handful of other premier names that will appear throughout our guide.
GPU: As a result of VR apps' hyper-realistic, high-res visuals, a top-notch GPU is quintessential to the experience. When it comes to the Oculus Rift and HTC Vive, the minimum GPU required to cooperate would be an Nvidia GTX 970, which is over half a decade old now. So you're probably going to want something a bit newer and more powerful than this card to future-proof your PC for the Metaverse.
RAM: To take full advantage of the life-like movements of virtual reality, an incredibly fast piece of machinery is often ideal. With that being said, the bare minimum required to run any of these applications is 8 gigs of random access memory — we repeat, the bare minimum. Seeing as the vast majority of preferable options often offer no less than that, it is highly recommended to take things up a notch to at least 16 gigs to guarantee your VR experience is as swift as can be.
While these are the three integral components, a trustworthy operating system is also important. Across the surfeit of PC gaming laptops, a modernized WindowsOS has proved to be the most ideal, which shouldn't come as much of a surprise. To the benefit of countless gamers, the Washington-based conglomerate has ultimately made the majority of Windows 10-operating options capable of withstanding VR.
Lenovo Legion 5 Premium Laptop
Lenovo doesn't tout its Legion 5 as "Premium" for nothing. Moreover, it operates on Windows 11 and an uber-powerful 6-core processor courtesy of Ryzen, an ideal alternative to the more-orthodox Intel motherboards that appear in a surfeit of PCs. Needless to say, Lenovo's option is as new as it gets, albeit there are even more powerful ones on the market. Be that as it may, it is an ideal entry-level option for anyone looking for a steady start to the world of VR — not to mention gaming laptops as a whole.
CPU: AMD 6-Core Ryzen 5 5600H Processor
GPU: NVIDIA GeForce GTX 1650 4GB
RAM: 8GB-32GB
Dell G15 Special Edition Gaming Laptop
As Dell's one and only VR-ready option, we had no choice but to highlight the renowned manufacturer's powerful gaming laptop of the future. Boasting a 3DMark Time Spy score of 3,960, the Texas gadgeteers' G15 Special Edition is well equipped to take on the pastime at a whole new level. Having been tested by professionals and also exceeding the necessary score overall, the laptop can make immaculate use of an HTC Vive or Oculus Rift headset, all the while operating on Windows 11. Plus, Dell takes inspiration from its gaming-focused subsidiary Alienware by way of its thermal design, which allows dual air-intake from the top and bottom of its keyboard.
CPU: 11th Generation Intel Core i7 Processor
GPU: NVIDIA GeForce RTX 3050 4GB
RAM: 16GB-32GB
Acer Predator Triton 300 SE
While Acer's offering only comes equipped with Windows 10, its razor-thin design ranks second to none and remains a powerful choice regardless of its ever-so-slightly outdated operating system (plus, Microsoft offers free upgrades to Windows 11 on most Windows 10 machines). No matter what you look to accomplish with this powerhouse of a laptop, be it speed-running your favorite game, binging your favorite series, or making use of your VR headset, its high-speed 14-inch display looks to get you through all your entertainment needs with more than adequate power.
CPU: 11th Generation Intel Core i7 Processor
GPU: NVIDIA GeForce RTX 3050 4GB
RAM: 16GB
Alienware m15 R5 Ryzen Gaming Laptop
Alienware is the brand that most people tend to connote with gaming equipment as it is, so it was only a matter of time before one of its most powerful laptops made an appearance here. The m15 R5 may rank as relatively entry-level by hardcore players' standards, but it serves as an ideal gateway into the realm of what Alienware has to offer. The piece of technology is powered by an AMD Ryzen 7 5800H 8-core processor and operates on Windows 11, ensuring nothing short of the latest and greatest in the PC world.
CPU: AMD Ryzen 7 5800H Processor
GPU: NVIDIA GeForce RTX 3050 4GB
RAM: 16GB
MSI GS66 Stealth
While MSI may dub this laptop as "Stealth," its fully-customizable, RGB-backlit keyboard may have something else to say in that regard. Nevertheless, this laptop is quite the powerhouse, featuring 3 fans and 7 pipes that make up the gadgeteers' patented Cooler Boost Trinity+ tech. On top of that, it boasts a 99.9 WHr battery — the largest that's legally allowed on an airplane in the U.S. Lastly, thanks to the MSI Center exclusive to the manufacturer's catalog, you can feel free to adjust any of the laptop's settings whenever you deem it a necessity.
CPU: 11th Generation Intel Core i7 Processor
GPU: NVIDIA GeForce RTX2070 8GB (Max-Q)
RAM: 16GB
ASUS ROG Zephyrus G14
ASUS' ROG Zephyrus has been touted as the gaming laptop most capable of withstanding the test of time, and it drives a hard bargain. In its stock form, the Zephyrus boasts a heavy-duty, Ryzen 7 4800HS 8-core processor, but buyers have the option of boosting that up to a Ryzen 9 4800HS for improved performance. To enhance the experience even more, ASUS' premier gaming laptop features built-in Dolby Atmos speakers to make every game you play even more immersive. Lastly, it keeps things up to date, as it comes equipped with an upgrade to Windows 11.
CPU: AMD Ryzen 9 4900HS Mobile Processor
GPU: NVIDIA GeForce RTX 2060 6GB (Max-Q)
RAM: 8GB-24GB
Alienware X17 Gaming Laptop
Alienware marks its x17 as "limitlessly thin," and that doesn't even scratch the surface or how much its top-tier product is capable of. The razor-like laptop makes use of the techies' patented Cryo-Tech technology, which allows games to run for much longer periods thanks to its quartet of cooling fans and a handful of unique power modes: Performance Mode, Balanced Mode, Battery Saver Mode, Quiet Mode, and Full Speed Mode. Choose whichever one you see fit as you take on virtual reality at a velocity that is practically out of this galaxy.
CPU: 11th Generation Intel Core i7 or i9 Processor
GPU: NVIDIA GeForce RTX 3060 6GB, NVIDIA GeForce RTX 3070 8GB, NVIDIA GeForce RTX 3080 16GB
RAM: 16GB-32GB
Razer Blade 15 Advanced Model
Razer is a well-known label in the gaming community thanks to its many peripherals, but its high-end laptops sure manage to separate the RGB fans from the full-fledged players. The Southern California-based brand's Blade 15 Advanced is an absolute powerhouse from a performance standpoint, boasting an Nvidia RTX 3060 graphics card for optimized speed. Powered by the latest Intel Core i7 processor and revolving around a gorgeous 1080p display that measures in a sliver over 15.5 inches, the immersive piece of equipment is rounded out with spatial audio support courtesy of THX — needless to say, making use of virtual reality headsets on this is as theatrical as it gets.
CPU: 11th Generation Intel Core i7 Processor
GPU: NVIDIA GeForce RTX 3060 6GB
RAM: 16GB
HP ZBook Fury Customizable Laptop
HP's ZBook somehow manages to outdo the likes of gaming wizards around the world and pulls it off with flying colors. The now-Texas-based brand's fully customizable laptop is entirely tailored to the owner's liking. Powered by the most recent Intel CPUs and your choice of either NVIDIA or AMD GPUs, you can make the most of your new laptop with what you consider the best option available. The self-touted "desktop-caliber performance" is rounded out by additional privacy ensured via HP's patented Sure View Reflect tech. To top it off, its built-in dual speakers come courtesy of the Danish masters of sound in Bang & Olufsen, making this an immaculate piece of equipment that practically boasts the prowess to double as a soundbar.
CPU: 11th Generation Intel Core i5, i7, i9, or Xeon Processor
GPU: AMD Radeon Pro W6600M 8GB, NVIDIA T1200 4GB, NVIDIA RTX A2000 4GB, NVIDIA RTX A3000 6GB, NVIDIA RTX A4000 8GB, NVIDIA RTX A5000 16 GB
RAM: 4GB-16GB
Origin EON17-X Gaming Laptop
Akin to the ZBook in the sense that you can practically assemble it yourself, Origin's incredible EON17-X is second to none in just about every category. Each of the gaming powerhouses is made to order and looks to deliver nothing short of the greatest PC experience you can imagine. It's powered by a 10th generation Intel processor and boasts up to 8 terabytes of storage, 64 gigs of RAM, and a 64 gig GeForce RTX 3080 card from NVIDIA. Realistically, there is a whole to say about this particular laptop, but it's the player's choice to decide what they're looking to do with it.
CPU: 10th Generation Intel Core i7 or i9 Processor
GPU: NVIDIA GeForce RTX 3060 6GB, NVIDIA GeForce RTX 3070 8GB, NVIDIA GeForce RTX 3080 16GB
RAM: 16GB-64GB
10 Best Handheld Systems for Mobile Gaming
While each of these laptops falls into their own particular category, the handheld system has taken a big step forward in the modern world of gaming. As a result, we saw it fitting to tailor to another branch of portable gaming with our guide to the best handheld systems you can buy.